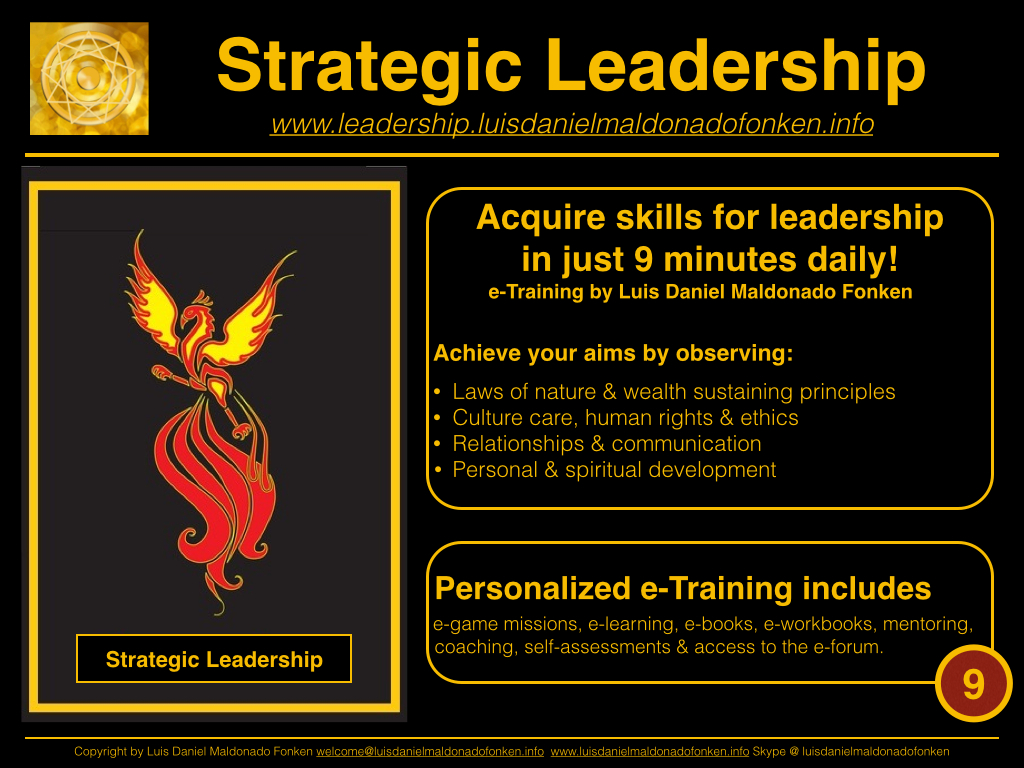 e-TRAINING 
Self-Assessment Sessions  ( Try it now! )
Find out your strategic leadership ability rank, according to our standard and set of score lines (score card).
e-Coaching  ( Book one session )
Advance your strategic leadership skills, along daily life, family and business challenges, with the support of a e-coach.
PRICES:
CORE KNOWLEDGE
The core knowledge (Primordial Technology Applied to Leadership – Prime Tech has been developed by Luis Daniel Maldonado Fonken 1987 -2016)  is the foundation for the e-training.
In particular Leadership in the fields of Business, Culture, Corporate & Governance (Prime Tech Theta, Matrix 9+, Prime Corporation),  Peace, Culture & Life Care: (Prime Peace),  Personal & Spiritual Development (Prime Yoga), Love Relationships, Family (Prime Love), Wealth, Property & Heritage ( Wealthability ), Human Value Quantification ( Matrix 9+, Prime Score Line, Prime Rank ), Prime Tech Game ( e-Game ), Futurism, Technology & Society ( Futurism )
e-Trainer, e-Coach, Author